On behalf of the staff at Saseenos Veterinary Services Ltd, we are honored to pay respect to our beloved animal friends who have passed. We also welcome you to create a lasting tribute for your beloved pet or animal friend on our website's Pet Memorial page. Please feel free to complete the following Pet Memorial Form in Adobe Acrobat format, which requires the free Acrobat Reader to view.
Download & Print Questionnaire
Tammi
~1999-2016
RIP Sweet girl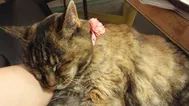 "Wesley Clark"
2019
Wesley Clark lived a full, adventurous life. He had a family who loved and cherished him till his last breath. He will always be remembered for his bossy sneezes and head flipping.

He never barked in his 13 years, only a growl or two. He never wanted for anything.

Your loss is a scar on our heart. Wesley we will miss you forever. Have fun in heaven little man, all our love - Mommy, Daddy and Jax.
"DEXTER"
2017
"ASIA"
1999-2017
Asia was about a year old when I found her in Pet's West in Victoria.  




I listened to her history of unknown abuse and neglect; found almost feral and 




taken to the Duncan SPCA, followed by 2 adoptions: one owner's older cat attacked her and the other owner broke into hives in the first 24 hrs due to an unknown cat allergy.  




She had been at Pet's West (in the back) for 3 months when I came into the store & I 




couldn't walk out without her.  She was the most traumatized, scared cat I have ever 




encountered.  She was a beautiful black tortoiseshell in a perfectly petite little body.  




It took 6 months for her to trust me enough to jump on to my lap and another 3 months to learn not to use her teeth and claws on me.  Then, she turned into the sweetest, 




most loving lap cat you could ever hope for. As affection and love was lavished on her, 




she returned it in multiple kitty ways:  head butts, licks, kneading, and curling up on my 




lap & purring while starring into my eyes.  She even used to reach up with a soft paw and pat my face.  She reluctantly accepted my husband 5 years ago and learned to love him almost as much as me.  




I had promised Asia that I would never leave her & never abandon her. 




Thanks to Dr. Amanda Booth for her professional, kind, 




attentive and loving care of our old girl.  




Thanks also to Dr. Naima Jutha who took over Asia's care in her final few months 




and so calmly and compassionately helped us and Asia say our final goodbyes 




on July 7, 2017 as I held her in my arms and she drifted peacefully away to her 




eternal rest at the ripe old age of 18 years and 3 months.
"ERIK"
The Thespian Pony
Erik the Thespian Pony famed for his exploits in Wild West Shows for 6 years and fund raising for various good causes. Erik raised nearly $30,000.00 in support of various institutions or individuals, therapeutic riding, the
Metchosin
Community House and young challenged equestrians. Erik was one of the trio of horses that introduced Cowboy Mounted Shooting to Canada in the summer of 1998. He was also a highly adept trail horse in the wild having carried Gary thousands of miles. Erik appeared in various videos and arena performances. He would walk into buildings, climb stairs. He could be roped from and shot from. Erik was fearless and patient. He would stand tied for hours and hours with no fuss. He was a very special horse. He would do anything that was asked of him without hesitation. When Gary and his other mount Bron would go anywhere Erik would run and jump into the trailer. He enjoyed travel and adventure. He also enjoyed crowds. During the breaks between sets of the Wild West Show he became the petting pony. Children were drawn to him. They would pat him and he would nuzzle them.
Erik will be fondly remembered by all who were fortunate enough to have met him.
Tiger was a lovely and handsome boy that suddenly became very ill at 13 years old.
Sadly Tiger did not survive his illness.
He will forever be remembered as the bright eyed adventurous handsome orange tabby that he was.
A beautiful "Thank you" plant & card presented to us from "Tiger's" family.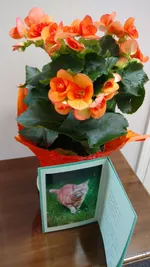 IN LOVING MEMORY OF
SWEETIE
February 2000 - August 2015
Sweetie has been a patient of ours her entire life, she truly was a sweetheart.
We will all miss her and have a void in our hearts now that she is gone to kitty heaven.
Our thoughts are with her human family whom she now looks over from above.
The picture above was presented to us by her family. It is a picture of her as a kitten, around the time they came into each others lives and a more recent picture of the gorgeous feline she became.
IN LOVING MEMORY OF
DEACON
September 2, 2006 - September 5, 2009
The neighbours complained about him barking. Against Dr. Amanda's advice I decided to have him de-barked, and sent him to the States for the procedure. The vet there provided no information about possible complications and no after-care suggestions, and Deacon died with-in hours of coming home.
Dr. Amanda performed a necropsy and determined that Deacon had died as a result of a botched operation.
As a memorial to Deacon, I would ask anyone who reads this to PLEASE listen to Dr. Amanda, and never have this procedure done to any dog.
To lose a trusting friend, to lose any pet, is devastating, but to know that it was my fault for not listening to informed and expert advice - is to make it even harder to bear. Indeed my negligence went further in that I did no research on the vet I sent Deacon to - until it was too late. I then discovered he had many citations for violations and is still, currently, the object of investigation. Obviously I hold this man responsible for Deacons' death, but in the final analysis it was my fault for both agreeing to a dangerous and unnecessary operation and for not checking out the American vet properly.
All dogs bark, and Pomeranians perhaps more then most. (Something to bear in mind before buying a puppy if you live in close proximity to others). Nevertheless, Deacon would still be running around the yard, telling the Canada Geese to stay out of his air space, and generally enjoying life if I had not been stupid enough to put the demands of intolerant neighbours before the welfare of my dog.
In memory of Deacon I would beg any owners who are thinking of giving in to pressure from neighbours to talk to Dr. Amanda - there are lots of ways to deal with excessive barking that do not put your dog at risk in this way. I still miss my feisty, lovable and loyal companion - and I have to live with the fact that I failed him totally and he lost his life because I put complaining neighbours demands before his welfare. Never again should this happen.