Pet of the Month
June 2018
"Ricochet"
Ricochet is a very lucky cat! He initially presented to the clinic back in December after he had gone missing for 2 weeks! Thankfully, he made it home, but his Mom noticed he was limping on his hind leg and didn't jump up the way he used to. We took x-rays and discovered that Ricochet not only had a healing pelvic fracture, he also had a gun pellet imbedded in his femur! With pain medication and some TLC from his Mom, Ricochet was able to heal and is back to his usual self. It turns out Ricochet is aptly named – if only he could tell us what happened to him while he was out on his adventure!
Pet of the Month
February 2018
"Kailee"
Kailee is the sweetest girl, but the chronic ulceration and infection between her toes was so painful that it was hard for her to even walk. We found an infection with yeast, and when that was treated, her feet improved but were still sore. Biopsies helped identify an underlying allergy, and now she is on a never ending anti-inflammatory medication. Her feet are almost back to normal and she is able to be back to a happy, pain free life.
Pet of the Month
November 2017
"Bella"
Poor Bella was having a very bad week. She got hold of a piece of Thanksgiving ham bone, and devoured it with gusto. Within 3 days she was vomiting and rapidly became extremely ill. Her blood tests indicated severe infection, and ultrasound showed that it was coming from a damaged gut.
It was discovered during surgery, that the last 6 inches of her small intestine had been so severely damaged by the bone fragments passing through that they were black in colour and dead. The damaged intestine was removed, and the healthy ends reattached. Within 36 hours she was eating, and is back home and now feeling happy and hungry!
Moral of the story; Bones can be VERY dangerous!
Pet of the Month
July 2017
"Kanga"
Kanga is a very sweet kitty but she has been a bit of a snuffler all her life – her snorting and noisy breathing had however progressed to where it was difficult to swallow. It is risky to anesthetize a cat with breathing difficulty but it was imperative to examine the back of her nose to decide what was causing the obstruction under anesthetic. A mass could be seen compressing the back of her throat. We were able to grasp and remove a plum sized polyp from the back of her nose! She is now eating and breathing better than she has in years! A completely new cat!
If you wish to see the polyp it is on display at Saseenos Veterinary Services.
Pet of the Month
June 2017
"MAYA"
Maya presented to the clinic this Spring and wasn't her usual bouncy self! Poor Maya had become very itchy, with a raw red muzzle; moist, red, irritated local rashes called "hot spots" all over her body; she had chewed up the webbing between her digits and created local inter-digital skin infections; her ears were hot, red, and smelly; and the skin of her lower abdomen was very thickened, greasy feeling with blackened pigment. She had always been a little bit of an itchy dog and had some tummy sensitivities to certain foods, but nothing like this! Maya's parents immediately got her checked out and we were able to run some simple tests and analyze cytology of the material on those itchy areas, and found that she had superficial bacterial and yeast infections on her skin and inside her ear canals. She was placed on a course of antibiotics, anti-fungals, topical ear medications, and a flea/tick preventative to control her secondary infections and prevent any additional causes for itching, but the question still remained as to why this was happening.
Food and environmental allergies in dogs have become increasingly common, and with a thorough assessment of the distribution of Maya's areas of irritation, the suspicion was that Maya may have a food sensitivity. It was now important to find a food for Maya that she was least likely to be allergic to, meaning a protein source that she had never been exposed to before. Maya was to start a *strict* diet elimination trial on a prescription hypoallergenic venison and potato diet, and soon enough we would see if her itchiness and infections would return. It was hard to say no to her sweet treat-loving face, but Maya's owners remained strong and held off on any treats outside of her prescription diet. Soon enough, Maya was like a new dog. Her infections cleared up, her skin looked incredible, the smells were gone, and even her appetite and bowel movements were improved! Since then, Maya's parents have been slowly introducing new foods, careful to observe for signs of adverse food reactions, and so far so good.
We're so happy that Maya is comfortable again. We will keep a close eye on her to monitor whether she develops further allergic sensitivities, but otherwise, we're very happy that she's no longer itchy and scratchy.
Pet of the Month
April 2017
"Cinnamon"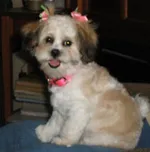 Cinnamon is a lucky girl.
She had problems 3 years ago with stones in her bladder. Some bladder stones can be dissolved with diet, but unfortunately hers were not the type that will dissolve. Surgery was done to remove the stones, and she recovered well.
Recently, she showed problems with urination. A urinalysis suggested infection, but ultrasound showed that it was caused by a new stone that had formed. A second surgery removed this stone. She recovered well again.
In future she will be fed a very strict diet designed to prevent more stones from forming, and be encouraged to drink as much water as possible to flush her bladder. We have every reason to believe she will live a much happier, stone free, life from now on.
Pet of the Month
March 2017
"Jake"
Jake is a VERY fortunate dog. His owners noticed that he was just slightly not quite right. He looked a little under the weather but the only real specific sign had been that he wretched a couple of times that morning. Fortunately, his owners were concerned enough to phone immediately. They brought him in, and though he was not bloated, he showed extreme discomfort when we palpated his abdomen, x-rays showed the early stages of a stomach torsion.
The survival rate for dogs with stomach torsion is only about 50% because usually, by the time they are brought in, the twist has been long enough that the stomach wall is dead. Fortunately for Jake, we were able to perform surgery immediately, untwist the stomach, perform a gastropexy so it will not twist again, and because the surgery was done so quickly his stomach was in great shape, he recovered quickly and went home the next day.
A very happy outcome for a usually devastating problem, due to very vigilant owners who did not delay in seeking help!
Pet of the Month
February 2017
"Phijet"
Phijet is normally a happy little girl – full of life and a going concern. His family knew something was terribly wrong when she jumped off the chair, screamed and couldn't use her front left leg. X-rays showed a very unusual injury. She had dislocated her shoulder. It was replaced and she wore a sling to hold it in place for 3 weeks but unfortunately when the sling was removed it dislocated again.
Fortunately, Phijet was able to get help for our local surgery specialist who was able to create a muscle sling to hold the shoulder in joint. After the recovery period, Phijet has never looked back and is back to her normal, lively, bouncy self!
Pet of the Month
October 2016
"Cedar"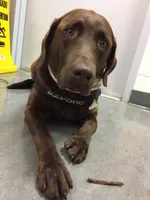 Poor Cedar developed a swollen painful throat while on vacation in Shuswap in June – she was treated there with antibiotics, but while her condition improved, by the time she returned to Sooke in August, there was a swelling half way down her neck.
We suspected that a stick may have punctured her throat and migrated down her neck but when we first explored the lump, there was so much thick scar tissue, and the jugular vein was in the middle of the lump, so we could not find the cause of the abscess.
After drainage and time for the scar tissue to resolve, we were able to explore more thoroughly, and found a 5 inch stick lodged in the muscle of her neck.
Needless to say now the stick is removed she has shown rapid recovery and is finally back to her normal happy self!
(yes, that is the stick that was removed from her neck)
Pet of the Month
May 2016
"Whitey"
This sweet girl came to Saseenos Veterinary Services in November 2015 looking for a home to call her own. She was in rough shape – quite weak, very obese, drinking and urinating much more than normal, and looking twice her age. After some blood work and a urinalysis, we quickly learned that Whitey was fighting uncontrolled diabetes along with a severe urinary tract infection. For months, we did everything we could to get her blood glucose levels under control with diet changes and insulin treatments, and we are proud to say that today, Whitey is in diabetic remission. She is no longer dependant on insulin and only needs a special prescription diet to keep her happy, healthy and normoglycemic. We've managed to also bring her weight down to an appropriate place. She has turned out to be a lovely girl who LOVES meal time, and enjoys a good cuddle (on her own terms, of course!). The only thing left to do now is to find the perfect forever home for this wonderful, lucky lady.
Though we'll miss her dearly, we can't wait for Whitey to end up with a loving family to call her own.
If you're interested in rescuing this gorgeous kitty, please ask us
for further details and potentially a meet & greet!
Pet of the Month
April 2016
"Lucky"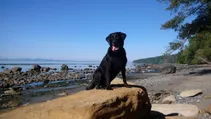 Lucky is a fantastic dog that has truly lived up to his name. In the late summer of 2015, Lucky's dad brought his sweet pup to us with concerns about a number of lumps and bumps all over his body. After testing each individual lump by fine needle aspirate, it became apparent that Lucky had mast cell tumours, some of which were high grade and required excision followed by chemotherapy. Lucky recovered amazingly after his big surgery to remove all the tumours.
We started chemotherapy in November 2015, administering intravenous medications weekly for one month, then every two weeks for two additional months. Lucky was the perfect patient, though sometimes he got a little nervous having to come back to the clinic time and time again. His lovely dad would sit with him while he would remain on fluids on his 'chemo days', keeping him calm, comfortable and tail-wagging.
Lucky's response to the chemo was amazing, with little to no side effects at all! His last treatment was on February 26, 2016, and he is doing absolutely phenomenal. Though we plan to keep a close eye to ensure that he stays in remission, there is no doubt at all that Lucky is just that (very lucky!) to have had such a wonderful family to get him though all of this.
March 2016
small break in pet of the month
Pet of the Month
February 2016
"Sydney"
Sydney is as lovely a sweetheart Labrador as you could ever meet, but a number of years ago she developed "not right" symptoms and was clearly in trouble. Testing revealed that she has Addison's disease (the same disease of the adrenal gland that afflicted JFK through his life). Fortunately, medicine has moved on since the 1960's, and with some adjustment of medication, she is controlled very well, and will live a happy, normal life with the help of long term medication. As she became older though, she has developed arthritis and was having some issues with pain and stiffness. With the balancing of several pain and anti-inflammatory treatments, her comfort has been much better, and she looks forward to many more happy, comfortable years.
Pet of the Month
January 2016
"Mindy" Oakley
Mindy is a very fortunate little girl, and has 9 lives just like a cat! She was rescued by her current owners on the point of death from severe liver disease 2 years ago. After intensive treatment at that time her liver stabilized and she was a happy girl for 2 years. Recently, however, her liver suddenly became severely inflamed and her gall bladder ruptured. After a second near death experience and major surgery with the specialist to remove her diseased gall bladder, her liver is working better then ever again. After having her Moms waited on her hand and paw for two months, she has gained her weight back and is back to her old, happy self!
Pet of the Month
November 2015
"Sierra" Johnston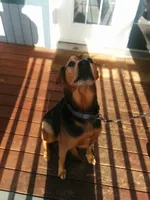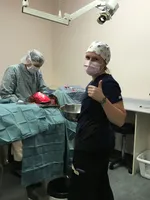 Sierra was a lucky girl when her current owner adopted her – she was in need of having a VERY large growth on her side removed and her new owner wanted to provide her with that option when they brought her in to see us. The tumor, which was the size of a soccer ball and close to 12 lbs, was weighing her down and affecting her mobility and quality of life. It was also growing at a rapid rate. She was swiftly taken to surgery within a week of her first appointment and although there were certain risks associated with this type of surgery, Sierra did wonderfully well through-out the operation and recovered successfully. Now not only does she have a new loving and compassionate family to spend the rest of her life with, but with a sleek and slender new physique to run and play with again!
Pet of the Month
October 2015
"Frank" Michelsen
Frank was having an uncomfortable summer. He seemed to have developed allergies as he was sneezing constantly. His mom and dad were also aware that he had stinky breath even though he was eating well and showing no other signs that his teeth were a major problem.
When we first saw him he had some discharge from his nose and severe dental disease. We anesthetized him to examine his nasal passages for reasons for the sneezing and to deal with his dental problems. His upper canine teeth had abscessed on the inside (where it could not be seen) so severely that the infection had eaten into his sinuses and hair and food material were driven up into his sinus cavities. Many other teeth were abscessed, and in spite of all this he had been eating and drinking like normal and showed his owners no signs of the pain he must have been in! A number of abscessed teeth were removed, the infected bone and sinuses flushed and cleaned and the gums sutured closed.
Within a very short time the transformation is amazing - he feels 10 years younger and we expect the sneezing to stop as the sinuses heal! even though Frank is 17 years old, he came through the anesthetic with flying colours and a new lease on life...ready to take on the next decade!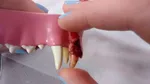 dental model on left, abscessed tooth extracted on right (picture taken after tooth "cleaned up" a bit)
Pet of the Month
September 2015
"M" (yes, as in Bond)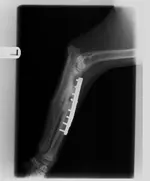 M is your typical sweet and bouncy, loving pup.
You would never know she underwent major surgery on her leg when she was just about 6 months old. She initially was a rescue from the Vanderhoof area before she was adopted and brought to Sooke.
One beautiful day she was on a hike with her daddy and big brother when she fell 40 feet down an embankment at the beach and was rushed in to our clinic with a broken leg. Because her legs were still growing at a steady rate, her fracture required 2 separate surgeries by an orthopaedic specialist to fix but now she is almost 100%!
M is able to return to all the things she loves including long walks in the park, her squeaky toys, eating more FOOD now that's she's returned to a more active lifestyle. She's not so fond of the hot summer days and being told 'NO' when she's misbehaving, but despite all she's been through in her recovery, it hasn't curbed her zest and enthusiasm for life!
Pet of the Month
August 2015
"Heidi B"
Heidi is a sweet girl but unfortunately has been prone to SEVERE skin allergies both in Saskatchewan where she began her life, and in Sooke. Luckily she has a loving and committed family to help her cope with her skin problems. Her allergies have been controlled with a combination of diet, medication, and careful skin care, but when she developed a potentially life threatening tumor in 2013, it was necessary to stop some of her skin medications. Fortunately with a combination of herbal treatments, allergy testing and desensitization shots for her allergies, and continued diligent skin care by her owners, she has now been in cancer remission for 2 ½ years, and is able to live a comfortable, happy life!
Pet of the Month
May 2015
"Heidi Z"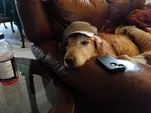 Heidi is the sweetest golden retriever you could ever meet, and has always been full of energy. When her mom found a tiny black mole on her lip, it appeared to be a minor blemish. Fortunately, her mom decided to err on the safe side, and we biopsied the lump. To our concern, the results showed a malignant skin cancer. To make matters worse, it had spread to the glands in her neck. As in people, Melanoma has been a death sentence for dogs in the past. Fortunately, there is now a vaccine available to internal medicine specialists, which triggers the immune system to attack the cancer. Dr. Booth is able to access the vaccine and Heidi has been vaccinated for two years now. Thanks to modern technology she has had no recurrence and is a healthy and happy girl!
Pet of the Month
April 2015 - short break ...
May Pet of the Month coming soon!
Pet of the Month
March 2015
"Lexi"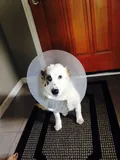 Lexi is the sweetest puppy you will ever meet, but had the misfortune of being hit by a car on the streets of Mexico where she had been abandoned. She was found with a fractured leg by a Mexi Rescue group. They had her leg "repaired" in Mexico. A staff member of Saseenos was taken with her sweet face and adopted her after the sudden loss of her beloved Golden Retriever to cancer.
After Lexi's arrival to Canada, it was discovered that the fracture repair was very poorly done. The pins had been inadvertently driven through the knee joint; destroying it. Lexi was obviously in pain and had no use of her leg. It was decided to amputate her leg as it was doing her NO good. Within 24 hours of her amputation surgery she was running around feeling much better then she had in months. She will live a happy, long life with just a peg leg stump as a conversation piece!
Pet of the Month
February 2015
"Pepe" Robinson
Periodontal disease is such a common problem in pets that when "Pepe", a cute little 9 year old female Chihuhua came in with her owners complaining of her foul breath and decreased energy, it was clear after a look in her mouth that her symptoms could be a result of her teeth. If left untreated, the chronic infection could spread to other parts of her body by gaining entry through her inflamed gums and could lead to other major health problems later in life.

After some preliminary bloodwork to further assess her health, she underwent an anesthetic to thoroughly evaluate her mouth, complete full mouth x-rays and perform dental extractions. Pepe had already lost some of her teeth naturally to periodontal disease, but numerous more extractions were necessary to target the underlying infection in her mouth that was putting so much stress on her immune system. After a very successful procedure, she recovered amazingly well and regained much of her energy that was missing in the months before the dental.

The full number of adult teeth in a dog is 42 and although many pets only have a small proportion of those teeth actually extracted in any one dental, even those that have most of their teeth removed can go back to chewing kibble without any problems once the source of the pain and inflammation is removed.

Just like in humans, dental care in our pets is essential to good health and longevity!
Pet of the Month
January 2015
"Rolo" Lord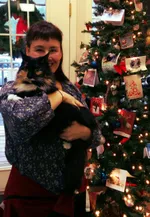 Rolo is a very sweet kitty but has a very bad habit of chewing on the kids toys. So, when she suddenly started vomiting violently and refusing to eat, her Mom knew that something was wrong. Fortunately, her Mom brought Rolo in right away.
X-rays of her abdomen confirmed that there was a blockage in her small intestine causing food and water to back up to the stomach resulting in vomiting. Mom has had the misfortune of severe medical issues of her own, and so was unable to afford the emergency surgery needed to save Rolo's life. Fortunately with pro-bono services of some staff and the generosity of contributors to out good Samaritan fund to cover our costs we were able to perform surgery on Rolo immediately. A foam toy from the recreation room was lodged in her small intestine, but due to the prompt surgery, there was no devitalized tissue, and we were able to remove the foam toy, and close the intestinal incision successfully.
Rolo felt better almost immediately and was able to return to her family just in time for Christmas. Her Mom said it was the best Christmas present ever! We always appreciate contributions to our good Samaritan fund which allows us to help those deserving but less fortunate patients to live long and happy lives.
Pet of the Month
December 2014...a Christmas "Tail"
At the end of July, our vet clinic received a very special package. Someone kindly rescued five tiny kittens, along with their very young momma, and brought them to us. The kittens were only about 1-2 days old and had been taken from a home where they were NOT wanted and most likely would have met an untimely death. Their momma was a lovely young girl that would have made a lovely "clinic cat", but sadly that was not to be. After an exploratory surgery, it was determined she was not well and needed to be put to sleep.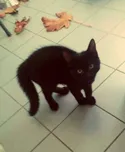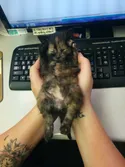 The five young kittens were left without a momma at a very young age, so all of our staff helped out with the round-the-clock job of feeding every two hours along with all of the other jobs that a momma cat would normally do! There were definitely some ups and downs…in a few instances we really didn't know if they would all make it. With alot of patience and love, they were soon all thriving and ready to live in their forever homes.

All of the kittens were adopted out to loving homes: "Red" and "Sassy" are now living in Cobble Hill, and "Mingas", "Ali Babba" and "Harvey" are all living in Sooke. Harvey is owned by a staff member and still comes into work for "playdates" with his brothers Ali and Mingas. So if you are at the clinic and here a ruckus behind a closed door….it could be some wild kittens celebrating their happiness!!!
Pet of the Month
November 2014
"Charlie" Lockhart
We first met Charlie at our clinic back in April when he was about 11 months old. He is normally a very bouncy, outgoing and loving pup but the moment Mom tried to walk through the clinic doors Charlie put the breaks on – literally!! He refused to come inside and when he finally did he dropped flat to the ground and even wet himself!
Charlie was so overwhelmed with this new experience that it made him quite scared and nervous. Sometimes all of the different scents and sounds can be intimidating to our critters but we had a potential solution for him!
In this scenario we like to have our patients come for social visits; a fun time to come in, walk around and take in their surroundings without anything "scary" happening to them. No thermometers, needles or nail trims! Just a bit of relaxed time where they get lots of positive attention, treats and cuddles only are allowed from the staff!
Charlie's Mom followed our advice and in only a few visits we completely won him over! He now comes bounding in here so excited to see all of us. We spoil him with treats and cuddles and it is now a positive experience for Charlie!
Pet of the Month
October 2014
"Arrow" Dusseault
One nice July day, Arrow was out playing with one of his buddies and came out of the bush limping on his front leg. After an x-ray confirmed that he had a fractured toe, a splint was immediately placed to provide stability to allow the toe to heal. Because the fracture was quite a serious one, there was a chance it may not heal properly or could take longer than originally expected. However, Arrow proved to be a champion at tolerating the splint and bandage changes every couple of weeks and the most recent x-ray showed his toe healing well. Although he has gotten quite used to his one "clunky" leg, we're sure he is eager to get back to his active lifestyle and living bandage-free again!
Pet of the Month
September 2014
"Tia" Morgan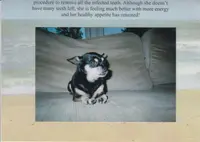 Tia is a very little Chihuahua that came to us with a very big tooth problem. Her mommy had noticed her appetite was a little "off" lately and she didn't seem entirely herself. A small swelling has also appeared along her cheek. It was determined that she likely had a tooth root abscess along with significant generalized dental disease. In addition, her heart has also developed a loud murmur which may have been secondary to the bacterial build up in her mouth spreading to other parts of her body.
After have some bloodwork done and a heart ultrasound to make sure she could undergo an anesthetic and dental surgery, she had a procedure to remove all her infected teeth. Although she doesn't have many teeth left, she is feeling better with more energy and her healthy appetite has returned.
Pet of the Month
August 2014
"Paisley" Dixon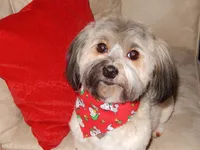 Paisley started coming to our clinic when she was just a little puppy. Her parents quickly realized she was having a really hard time getting comfortable due to severe allergies to food and environmental allergens. After starting the normal treatment for allergies, it was obvious they just weren't providing much relief or making much of a difference. Allergy testing (blood work) showed that she was very sensitive to a large number of environmental allergens (trees, grasses, and the like). She started on desensitizing injections which have helped somewhat – but still, she was quite itchy. Fortunately, she was able to start on a newer allergy medication which has finally made her a much more comfortable girl and has allowed her to get back to her adorable and happy, tail wagging self!
Pet of the Month
July 2014
"Austin" Ferguson
When you meet him, Austin is your typical young bouncy Labrador Retriever but he hides a special talent – he uses an inhaler! His problems began when he was only 5 ½ months old and he developed a cough. This cough would sideline him from his very active lifestyle that he was used too. Austin would respond to medication but the cough always seemed to come back. After some allergy testing and noticing that his cough seemed to occur during springtime, it was eventually determined that his cough could be due to an allergic bronchitis and he was started on an inhaler trial. Soon enough with the help of his family, he learned how to use the inhaler and responded beautifully and the cough went away. Now Austin is back to being his bouncy self, enjoying his favourite activities and keeping his family entertained!
Pet of the Month
June 2014
"Bear" Niederlinska
Bear is a sweet boy, but recently he suddenly started straining and showing great pain when trying to pass stool. Examination immediately revealed that he had a tumor growing inside that was blocking him from passing stool.
Fortunately his ultrasound did not show obvious spread into him abdomen so our surgery specialist was able to remove the large tumor. All the while Bear remained his adorable and sweet self but now, only a few weeks later, we are sure he is a much more comfortable and happy boy!
Pet of the Month
May 2014
"Santo" Duperrault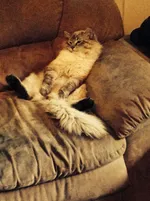 Santo is a very sweet boy but not very car savvy. He escaped from the house and was sadly hit by a car!
His injuries included a pelvic fracture, and a spinal injury which made it difficult for him to urinate.
With several weeks of care to help him urinate, and allow his pelvis to heal, he was eventually able to return home for convalescence.
Now 6 weeks later, he walks without even a limp, and all his other functions have completely returned to normal! He is back to ruling the house, and will NEVER go outside again!
Pet of the Month
March 2014
"Chilee" Palmer
Chilee is an outgoing, confident & adventurous little girl who loves everybody she meets! She was a rescue from the SPCA & was adopted at 9 weeks old. Chilee grew up in a large household with a BIG brother & a few feline siblings as well as Mom & Dad. She loved going on big hikes with her brother and playing for endless hours in the back yard.
Last year Chilee's life changed quite significantly when family dynamics changed. She went from having lots of "family" to socialize with on a daily basis to being an only child. Mom quickly noticed that Chilee was very unhappy being alone at home all day. She had started to show symptoms of separation anxiety by scratching at the door until she started to shred the wood, barking non-stop, bouncing off the walls when Mom returned home (funny but very intense) & a decreased appetite. Chilee started to lose weight and seemed pretty depressed & of course her owner started to become quite worried.
After consulting with Dr. Bell, Chilee was put on a new diet called MCRC Calm*. In conjunction with the diet change she also started using a product called Adaptil**.
After a couple of months on both of these products, Chilee started to return to her happy, outgoing self again!
*The CALM diet has a milk protein & tryptophan content to help maintain a cat or dogs emotional balance & can be very beneficial to those who are highly anxious.
** Adaptil is a pheromone diffuser which offers a natural & convenient way to help manage stress-related behaviours.
Pet of the Month
February 2014
"Zooey" Ray-Wilks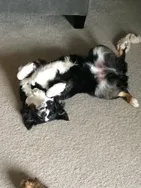 Zooey is one special little lady. Although she is only eight months old she has already overcome more then her fair share of challenges. Fortunately her owners took advantage of the free trial of pet insurance offered at all initial puppy vaccine appointments. This decision allowed for the resources needed to get her healthy again when she became ill.
Shortly after her first puppy vaccine appointment, she developed signs of gastroenteritis including a decreased appetite, diarrhea, vomiting and lethargy. Her owners promptly brought her into the clinic to be assessed. We performed blood work and x-rays and she was treated with intravenous fluids and tummy medications.
She initially responded favourably to her treatment and was able to go back home the next day. However, a week later her signs returned. Further tests were performed to look for possible underlying problems and determine necessary additional treatments. A urinary tract infection and low protein levels were discovered, but we were able to rule out other more serious diseases. She received more fluids and antibiotics and eventually her signs resolved and protein levels returned to normal.
Zooey received a clean bill of health at her final puppy vaccine appointment. She was noted to be gaining a healthy amount of weight and was full of beans! Her owners report she is doing great at home and we look forward to watching her grow up and getting more cuddles with her as she gets older.
Pet of the Month
January 2014
"Megan" Donaldson
Megan is the sweetest little girl – she Is usually cheerful all the time, but recently her owner noticed she was not quite her bubbly self. She had decreased energy, and seemed to be in pain at times. Blood work showed that she had an inflamed pancreas. We also took x-rays, an ultrasound and a urinalysis which showed a large stone in her bladder.
Surgery was needed to remove the bladder stone, and she now requires a special diet for her bladder and the pancreatitis. Megan is bouncing around like her old self once again!
Pet of the Month
December 2013
"Sampson" Caron
Sampson is a very special and inspiring boy. He was born with congenital problems affecting his posture and vision. The abnormally shaped vertebra in his neck causes his head to be permanently tilted to the side and throws his balance off a little. He also has congenital cataracts in both eyes. Sampson has also had a few setbacks along the way, but he still leads a very happy life and has never lost the ability to wag his tail when you call his name.
His owners adopted him from the SPCA when he was a puppy. After owning him for about a year they noticed his vision was getting worse. They were planning on proceeding with cataract surgery to help him see better. However, during an overzealous play session while awaiting his surgery, he ran into a fence.
Unfortunately, the trauma exacerbated his spinal problems.
After seeing a neurologist and having an MRI in Vancouver, it was decided it would be too risky to proceed with his eye surgery until his neck could be stabilized. The neurologist fashioned a neck brace for Sampson until surgery could be performed to fix his spine.
Sampson was improving with medical treatment and adjusting well to his neck brace until another incident occurred this summer when his balance and vision seemed to decline further. He returned to the neurologist who suspected additional congenital problems within the brain. This made surgical correction a less desirable option, so we decided to continue with medical treatment instead. After trials with a few different medications, Sampson improved. Although he is still a little off balance, he is currently doing well and wagging his tail with the best of them.
Pet of the Month
November 2013
"Ginger" Needoba
Poor Ginger, a beautiful and very happy Jack Russell Terrier, was having trouble with her foot. It was painful and swollen, and she was quite reluctant to walk on it. X-rays of the foot showed that she had fractured her toe! Fortunately, she is an absolute angel about tolerating a splint on her foot, which means coming in for frequent re-splinting and bandage changes. It has been a long process, but the toe is healing, the swelling has gone away, and she is starting to think about getting back to her old activities – although through out this whole ordeal Ginger never lost her spunk and happy spirit!
Pet of the Month
October 2013
"Kyffin" Brooks
Kyffen is a fun-loving little guy. When he was 4 months old, that fun led him into a bit of extra trouble…
One day his family brought him into the clinic because he kept vomiting all morning and was starting to vomit up blood. For a young little puppy, excessive vomiting can lead to dehydration and eventually hypoglycaemia (if they can't eat) so it was important that we stabilized him to find the source of the vomiting. After some tests and x-rays, there appeared to be something trapped in his stomach so he was taken into surgery right away.
At first it wasn't apparent, but once we had the pieces of foreign body retrieved from his stomach and washed up, his family identified as a chewed up soccer ball toy that he had been seen playing with weeks earlier!
He recovered almost immediately from his surgery (ah, the benefits of being young!) and while having just won awards from a dog show weeks earlier, he was lucky that he had time to re-grow his beautiful fur coat in time for the next one.
While he may not have won the battle with the soccer ball, he is certainly a winner in the ring and in our hearts.
Pet of the Month
September 2013
"Flannery" Merril
Flannery is one lucky and special lady. She is a shepherd mix who was fortunate enough to be welcomed into her current home when her family adopted her from the SPCA.
Flannery is generally a friendly and calm dog but one day she was startled by a fire alarm (alerting her family to dinner burning on the stove) and has been worried about certain noises associated with cooking ever since.
Luckily, Flannery's family loves her very much and is committed to working with her to overcome her noise phobias and anxiety.
After a thorough workup to ensure that she was otherwise healthy, Flannery has been treated with a combination of anti-anxiety medications, Traditional Chinese Medicine, natural remedies, agility classes and behavioural therapy to help her on the road back to an anxiety-free life.
Despite her current issues, Flannery seems to be enjoying a great life with her wonderful family. She turned 5 in August, so be sure to wish her a happy birthday if you see her.
Pet of the Month
August 2013
"Ginger" Finnerty
Ginger is a gorgeous & adventurous girl. Her life so far has been anything but uneventful. Gingers pelvis was broken after being hit by a car at the tender age of just 3 months old. Her injuries did not slow her down for long though, & she regained a very active & happy life when she was adopted from the SPCA a few months later.
Some time after, she began to develop a new lameness in her front legs. Knowing how much she loves to run, her owners were determined to find a way to help her maintain her active lifestyle. They consulted with several veterinarians & she was finally diagnosed with elbow dysplasia. Our local visiting orthopedic specialist performed a surgery to correct the problem.
Her limp had completely resolved for a couple of years until she unfortunately sustained a deep cut to her foot pad while off on one of her adventures this spring. Her owners rushed her down to our clinic & we were able to help repair the wound with stitches & frequent bandage changes. After about 6 weeks of her owners diligently caring for her wound & keeping her rested, her foot has finally healed & she is ready to get back to her exciting life!
Short vacation taken for July 2013...
NOW IN THEIR NEW FOREVER HOMES...ODIN & CRASH
ODIN
Odin has been adopted!!!!
Odin is a lovely shorthair brown tabby. He is a neutered male and is approximately 2.5years old. Sadly Odin was recently injured running away from a fight with another feline. He is currently recovering from his injuries very well but he came to us because sadly his owner was recently severely injured herself and was unable to help Odin through his recovery process. Odin is seeking a a home where he is allowed to go out periodically and enjoy the great outdoors. He has lived with 2 smaller breed dogs so he likely may adjust to another given the right circumstances. We are not certain how he would be in a home with other felines. Please email or phone the office if you are interested in meeting Odin. He will not be placed in his new home until he is completely healed.
CRASH
Crash has been adopted!!!!!!
Crash is an independent beautiful silver grey shorthair spayed female approximately 9 years old. Crash MUST be placed in a home where she is an outdoor "barn" cat ONLY as she seems to feel that the home is her litter pan. She has been checked to rule out medical reasons for her inappropriate elimination, there was no medical reason discovered for it. As a "barn" cat (by the way, we have been told she is a very good mouser!), she will require her new home to provide her with warm, dry shelter as well as fresh food and water daily. If you are interested in Crash please email or phone to set up a meeting to introduce yourself to her and discuss (with us) her needs.
Pet of the Month
June 2013
"Kaiser"
Kaiser is the coolest dog. The size of a small horse, he turns heads wherever he goes. He is a gentle giant and everyone who meets him loves him. He started having epileptic seizures a year and a half ago. Like many big dogs his seizures were not the easiest to control, however, with the input of the neurology specialist in Vancouver, he is now well controlled.
Then a few months ago he became very lame on both of his hind legs. He had injured his anterior cruciate ligaments in both hind legs. Thanks to a newer procedure that our local surgery specialist performs, this can be fixed even in large dogs, but the cost is significant. Fortunately Kaiser's Mom and Dad had started health insurance for him as a puppy, so the surgery was covered. Now he is walking and running like nothing ever happened on his new bionic legs!
Pet of the Month
May 2013
"Erik"
Erik is a very special boy. At the ripe old age of 29, he spent his recent birthday party reflecting on the fullest life imaginable! Known for years as a star of Captain Jack's Wild West Show, he was the trusty steed who charged down the target line with his rider, guns a blazing, picking off the targets.
The trust required between a horse and rider to accomplish such a feat is huge. Chasing stage coaches,
and bringing down the bad guys – he was always up for the challenge. Now, in his elderly years, he still enjoys being an ambassador, as he and Captain Jack, a fixture in Metchosin, make their rounds. In amazing health for his years, thanks to the good care he has received through his life, we are all wishing him another 29 years young!
Pet of the Month
April 2013
"Bruce"
Bruce is a dog who once was unwell; he was discovered with barely any hair and a remarkable smell. He was in need of a friend who could provide for his care, to treat his skin infection and help grow back his hair.
Although his past family loved him they decided he was not a pet they could keep. They lost hope for any recovery and felt there was only one option – to put him to sleep.
But just in the nick of time, one of our dear clients with a love of his type offered up a solution that could help make things right.
She agreed to adopt him and provide for his care, and drove him straight to our clinic to find help for him there.
She booked an appointment with one of our vets, and you'll never believe what happened next.
Dr. Addie walked into the appointment and was greeted with delight. Our client who planning to take him knew it was love at first sight.
She agreed the two belonged together and decided it would be right to let her take on the role of Bruce's new owner, so Dr. Addie took him home that night.
With the right medications and many shampoos, Bruce is now a dog who is as good as new. He loves to run on the beach and play with his ball. Now Bruce's story has a happy ending after all.
Pet of the Month
February 2013
"Mapache"
Mapache, who may also be known as Fresca to some, was first introduced to our clinic in February of last year. Now notorious for her extremely friendly disposition and characteristic salutatory meow, she has definitely come along way from her roots as a once timid and aloof stray kitty.
After five years of refusing any close human contact, she began to warm up the family whom had been tending to her as a stray. Little by little, she began interacting with them more and spending more time on her visits inside their house. Her caretakers brought her in to us last year when they noticed she had a mild eye infection.
She responded well to treatment for the eye ailment, but then developed a medical condition requiring surgical correction this November. Dr. Booth agreed to perform the operation and let her board with us for a couple weeks after her surgery to ensure there were no complications. During her stay here, she used her affectionate nature and daily greetings to quickly work her way in to Dr. Addie's heart. When she was ready to be released from the clinic and in need of a home, it was clear she should be the next addition to Dr. Addie's household.
She now gets endless attention and continues to greet her new roommates with her distinctive meow each day. Mapache is definitely the cat's meow of her new digs!
Pet of the Month
January 2013
"Jackson" Wray
Jackson is an amazing guy. After finding his perfect home when he started out as a stray he was living the perfect life. Unfortunately he strayed onto the road on a dark and rainy evening and he was hit by a car. He had a severe brain injury and was in a coma seizuring when he was brought in by a good Samaritan. With intensive treatment, he was stabilized but was still in a coma. Fortunately he had an ear tattoo that we routinely place when we neuter or spay, so we were able to find his Mom.
Jackson was in a coma and tube fed for 4 days and it was touch and go if his brain damage was permanent, but by a week later he was eating on his own and walking – albeit still unsteady. He has got better and better, and now, 5 weeks later, you would never know that anything had happened. He is a normal happy boy (albeit having used at least 2 of his lives)!
Pet of the Month
November 2012
"Chevy" Adsett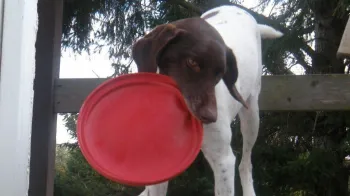 Chevy is a really sweet 5 year old pointer who loves her grub, so we knew when she came in vomiting one Saturday morning that things were not right.
Though it was thought she may have eaten something bad, she was quite dehydrated. Fortunately her Mom and Dad agreed for blood work to be run. Chevy has Addison's disease (the same disease JFK had). Thankfully because the blood work allowed us to diagnose her before she became critically ill she has responded really well to medication to replace the hormones that her failed adrenal glands can no longer make. Only 3 weeks later, she is bouncing around like nothing ever happened, and she should live a long, happy life!
Pet of the Month
September 2012
"Bentley" Saur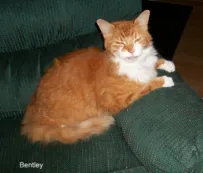 "Bentley" may be fondly remembered by some as the little orange and white door greeter at Saseenos that appeared in the spring of 2012. This handsome but malnourished little stranger showed up one day to tug at our heartstrings and after a little food and attention decided that our clinic was the perfect place to set up camp. After realizing that this sweet little kitty was a stray and a very persistent one at that, we welcomed him into the clinic and from his ear tattoo, traced his original roots to Vancouver but were unable to locate his original owners. We went ahead and performed several tests on this mysterious island immigrant to confirm he was otherwise fairly healthy then followed up with a dental procedure to remove numerous infected teeth and return his mouth to a cleaner and more comfortable state.
While recovering from his dental surgery and enjoying his new found wealth of warm shelter, constant food and cuddles, an underlying liver condition surfaced which became apparent when his normal "robust" appetite diminished. After some more blood tests to diagnose his issues and some medication, he made a complete recovery and became a good candidate for adoption to a loving home.
He is now living with his new mom where he gets all the attention he deserves and no longer has to survive the harsh conditions of the great outdoors from which he endured. He is one lucky little guy!
Pet of the Month
August 2012...
we took a short holiday this month...
Pet of the month
July 2012
"Baja" Wickheim
Baja was one lucky kitty living the dream - having daddy as a fisherman meant fresh fish on a regular basis! Unfortunately for Baja, his enjoyment for food came to an abrupt end when he lost his appetite after a period of dramatic weight loss noticed by his family as well as excessive thirst and urine accidents. He was soon diagnosed with diabetes mellitus and was experiencing diabetes "ketoacidosis" where his body could no longer access glucose for energy and started to metabolize his fat stores which were becoming toxic to his brain and body.
His illness became so life-threatening that he also developed secondary complications involving kidney and liver failure as well as pancreatitis and required intensive treatment and a lengthy hospital stay to recover.
Despite his initial poor prognosis, his sweet nature, constant purring and willingness to be syringe-fed in the early stages helped keep a positive outlook on his survival not to mention regular visits and unconditional love from his family who never gave up on him. After two weeks in the clinic and stabilizing his glucose levels and complications, Baja was finally able to go home on daily insulin and a special diet for long term management of his diabetes. Hi is a true testament to all pets that love and acceptance for help can prevail and he hasn't looked back since!
Pet of the Month
June 2012
"Church" Maillet
Church is a special cat with a heart-warming story. Likely born a stray, he had been hanging around one of our client's property on and off for about a year until one day, he thought he'd come close enough for some food and attention. Lucky for him, this generous and compassionate client brought him in for treatment as he was in a very sad state of health. He was covered in fleas, malnourished, had a severe head tilt and could not walk properly which we concluded was due to a chronic inner ear infection.
His ear was so severely infected that it had cause him to experience severe vertigo and continually fall over to one side. It was "cute" initially but obviously not fun for him as it posed as a danger if he were to try and jump or was to fall and be more seriously injured.
He underwent numerous blood tests which deemed him to be healthy and over time with proper antibiotic treatment for his ear, his head tilt and vertigo dramatically improved enough to become adoptable to the right home. Eventually he won over the heart of one of our staff members with his loving and charming personality despite his difficult past and now gets to enjoy all the luxuries his new "indoor" home has to offer.