We value our clients' experience at Saseenos Veterinary Services Ltd. If your pet or animal is currently a patient, please feel free to complete the following Client Experience Questionnaire. The Questionnaire is in Adobe Acrobat format, and requires the free Acrobat Reader to view.
Download & Print Questionnaire
Dr. Amanda Booth and Dr. Carla Bell
This link is to The Ocean's & Peninsula Co-Op's GIVING BACK AWARD that our very own Dr. Vicky Addie was awarded!
http://www.ocean985.com/contests/peninsula-co-op-giving-back-award/
Rolo is such a lovely girl...A big Thank you to her family for their thank you letter:
Saseenos Veterinary Services graciously donated over $500.00 worth of services and
money to save our cat Rolo who needed emergency surgery to remove an obstruction from
her small intestine.  Rolo is a two year old feline who loves to play & eat
everything.  Rolo was brought to Saseenos Veterinary for a check-up as she had
started vomiting and appeared to be not feeling well.  We thought that Rolo might
have a virus.  The clinic's team fit her in for an appointment.  Dr. Amanda Booth
did a physical and immediately suspected that she might have something more serious
as she did not have a fever but her tummy was tender to touch.  Dr. Booth kept Rolo
at the clinic to run more tests to rule out an obstruction.  A few hours later, the
devastating news arrived that they needed to perform emergency surgery or Rolo would
not survive.  Being a pet owner for most of my life, I had to make the heart
wrenching decision to sign away custody of our beloved family cat because I was
unable to afford the necessary surgery that would save her life.  I knew in my heart
that Rolo's best chance of survival fell to the team at Saseenos Veterinary Services
who were all compassionate, caring and thoughtful as they assured me that Rolo would
be given the very best treatment even though I did not have the required funds.
  During the surgery, they discovered that our cat had a piece of foam from a 'Nerf
Dart' lodged in her small intestine and were able to successfully remove the
obstruction.  Saseenos Veterinary Services donated their time, their skills, their
supplies and adopted Rolo like she was part of their family knowing that she would
have a long recovery ahead and would require daily follow-up treatments to get her
through a high risk period after the surgery.  The staff's team updated me daily on
Rolo's progress as she recovered quickly due to her good health & youthful spirit.
  The Nana Foundation, Vocal and GVAC have all also made monetary contributions to
assist with Rolo's care and we were surprised to discover that SVS decided to place
Rolo back in her own home where she is dearly loved. We are so grateful to SVS and
their staff for their act of generosity & kindness, they accept donations year round
to help in cases like Rolo's. Our family is so grateful and there are no words to
describe how thankful we are to have Rolo home healthy & recovering from her
misadventure.  Rolo's surroundings are 'pet safe & friendly'  and all holiday
hazards have been removed. We are a family that donates to local needs but to have
the donation come full circle we are truly humbled by everyone's generosity and in
the spirit of the season we have been blessed to have Rolo healthy back in her own
home. THANK YOU!                 

Yvette, Holly, Cole & Rolo
We are accepting donations to replenish our Pets in Need Fund.
~~~~~~~~~~~~~~~~~~~~~~~~~~~~~~~~~
A lovely framed "Thank You" picture we received from a very special patient, "Sara" and her family.
A HUGE Thank you goes out to all the lovely people whom have donated recently to assist in sponsoring the recent Las Varas Spay & Neuter clinic that our very own Dr. Carla Bell participated in.
http://jaltembabaylife.com/blog/2013/11/robs-ramblings-bang-for-your-buck-jbar-spay-neuter-clinic/
The following is an article that was provided to us from Tara Spears for the Las Varas Clinic
The Many Forms of Love: Las Varas Animal Clinic
Tara A. Spears ©
All of the dogs and cats had one thing in common whether they arrived in boxes, or on the end of a rope, or cradled in an old lady's arms: they are loved by someone. This week's Spay and Neuter clinic that operated on 93 dogs and cats in just three days was held in the working class village of Las Varas. This successful clinic is a testimony to love: the love of the doctors who devote their lives to helping animals; the love of the people who value their pets but can't afford proper vet care; the love from the volunteers that help at the clinics; and the love from all the people that donate money and needed supplies. Put all this positive energy together and everyone- animals especially- is better from the experience.
It's all about options: No matter what the climate or the language you speak, humans bond with animals. In rural Mexico, the people want the companionship of dogs and cats, but many families struggle to feed and clothe themselves let alone have extra money for vet care. This is why the brainchild of the Jaltemba Bay Animal Rescue group to provide free-of-charge veterinarian service is such a godsend to the local communities. Given the option to treat their pet, the local people flock to the clinics: the Guayabitos 3.5 day clinic serviced 252 animals in addition to the 93 Las Varas animals the following week! The majority of the animal clinic participants walked their pet there; very few locals arrived by car or even a taxi. These people cared enough about their pet to make the effort to better the quality of life for their animal because the option was available to them. Another effective imitative of the JBAR group is educating the community about proper animal health care- which will have a huge impact on future generations.
Devoted Vets: It is amazing how much is accomplished during each day of the animal clinic. Dr. Carla Bell, pictured above and left, went beyond donating her expertise to operate at both 2013 JBAR clinics. For the second time, she helped finance the Las Varas spay and neuter clinic. "I want to add that a large portion of the monetary funds to sponsor Las Varas was provided by many of our wonderful clients at Saseenos Veterinary Services, Sooke, BC, Canada. They deserve much of the credit for helping make this happen," said Dr. Carla. "The opportunity presented itself to sponsor Las Varas when I was at the November JBAR clinic two years ago and there was a need to add more clinics in the neighboring areas. To see such a positive impact in the Jaltemba Bay area, I was eager to help in any way I could. These clinics can not only benefit in reducing the numbers of suffering and unwanted animals, but also serve as a way to educate people about animal welfare. I believe the Las Varas location was initially chosen by the crew from PEACE Mexico (now taken over by Pets for Life). The first Las Varas clinic was so well-received that we decided to continue with more clinics in that community."
Drs. Anthony and Poly, along with their assistant Paulina, (left) form the Pets for Life group. This team is a mobile surgical unit that works long and hard to improve the quality of life for dogs and cats in Mexico. It is an honor to witness their skill under less than perfect circumstances. Pets for Life provides sterilization clinics to 35 towns throughout Jalisco and Nayarit. This talented and dedicated team is very organized and knowledgeable, enabling the clinic to run smoothly. The transformation of an empty building-a former jail- into a top notch clinic was amazing. To learn more, email: [email protected]
Also assisting at this Las Varas clinic was the awesome Dr. Malcolm Macartney and his team from McKenzie Veterinary Services in Victoria, B.C. Dr. Malcolm established the Mexi-Can Vet Project in 2010 and has been a real asset to the JBAR efforts. Dr. Malcolm shares his professional expertise and he raises funds that provide the much needed medical supplies. Go online to learn more about the Mexi-Can initiative: www.mckvets.ca
The caring husband/wife team of Rob and Heather Erickson (left photo,) have volunteered since the original clinic in 2006, are a stellar example of the type of people who get involved with JBAR. It may not seem glamorous to clean cages, carry anesthetized animals (there were several 25 kilo patients) off surgery tables to the post-op section, or to take rectal temperatures, but this duo performs any and all needed tasks for the love of animals- with a smile on their face.

Dr. Carla sums up the challenges to working at the Mexican clinics "the heat, the lack of sterility, the "cozy" (cramped) conditions, and the limited equipment" but feels that the rewards outweigh the frustrations.
A special thank you goes to Dr. Carla, Dr. Malcolm, Pets for Life, and JBAR for giving the option of a healthier life to Mexican animals.

We are working on getting the pictures to conform to the website requirements. Hopefully that will happen soon.
Recently we received some very special "Thank You's". We wanted to share them with you

February 2013
"I just wanted to say thank you to the staff of Saseenos Veterinary Services, especially Dr. Amanda Booth for the compassion and professionalism our family received during one of the most painful moments in our lives. Rick and I are truly grateful. Amanda you have such a great heart, strong morals, and a brilliance to you that even in the worst moments I can still be thankful for. I know our boy was handled with dignity from the beginning to the end of his journey. Thank you for being you!"
IN LOVING MEMORY OF SETH.
Carl, a bouncy and energetic lab came in with a very serious injury to his leg. It was repaired and Carl is now recovering at home with his family.
This is a picture of the Thank You cards we received from Carl's family.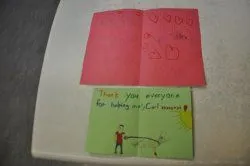 here is a link to it on our facebook page:
https://www.facebook.com/pages/Saseenos-Veterinary-Services/151725414978645#!/photo.php?fbid=159805014170685&set=a.157662484384938.37218.151725414978645&type=1&theater
Check out the submission that earned 2nd place in Trupanions Tru-Hero contest,
http://blog.trupanion.com/2011...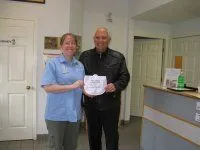 ---
A few of the many charitable, non-profit and community organizations we lend a helping hand to,
https://raceroster.com/events/2020/29052/sarah-beckett-memorial-run

http://www.mexpup.com/friends-...
http://www.spca.bc.ca/branches...
http://www.clubrunner.ca/Porta...
Sooke Food Bank
http://www.brokenpromisesrescu...
http://mckvets.com/about-us/me...